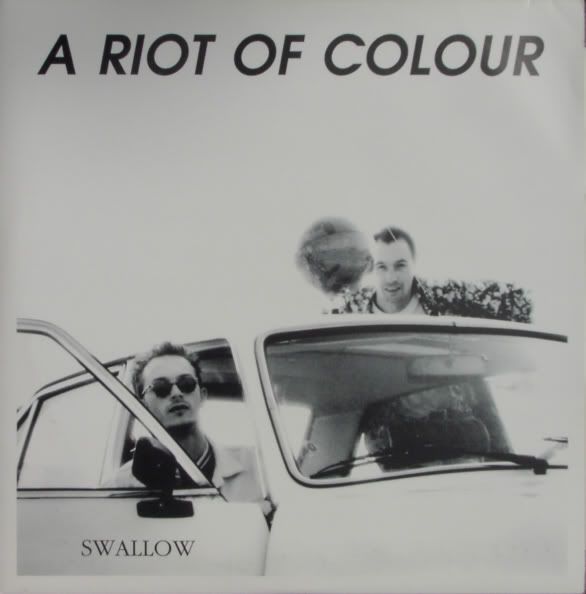 Label:
Dreamworld Records / Everlasting
Year:
1986/1987
The story of A Riot Of Colour by Alister Jackson (member of AROC):
Every band has a place where they say it all started. Ours was Aberdare Gardens, a leafy street in North London's Swiss Cottage. Having moved 'up to the smoke' from Sevenoaks to start a band, A Riot of Colour (name pinched from a newspaper headline about the Queen) was born in this enormous Victorian house, shared with between 7 and 19 others, depending on who'd been to The Blenheim that night!
London's permanent drummer shortage led to our enlisting a Sequential Circuits DrumTraks for our debut two-song 7" Lyntone flexi-disc. Twenty years of hindsight has shown this delicate black sliver of plastic to have been the perfect ambassador, opening some interesting doors including the biggest, John Peel's. It couldn't have been simpler. Waiting outside the Beeb for a couple of nights at ten-past-midnight and handing it over to him in person. In our naïvety, we keenly listened to his show the next night and, lo and behold, he actually went and played the thing.
We sold the disc to Peel's listeners for 50p to cover postage. Free copies we'd left on Rough Trade's counter-top were devoured and a review in Sounds singles page followed. Soon afterwards John Walters called to offer us a session. What, after one flexi? We truly were shocked and stunned. All of sudden we were a real band and we needed a drummer fast.
(read more)
Skink/Newtown (flexi-disc)
01 Skink
02 Newtown
Skink EP
01 Skink
02 House
03 Country
04 Newtown
Swallow EP
01 Swallow
02 Too Close
03 03 Sign 'O' The Cross (Version)
try